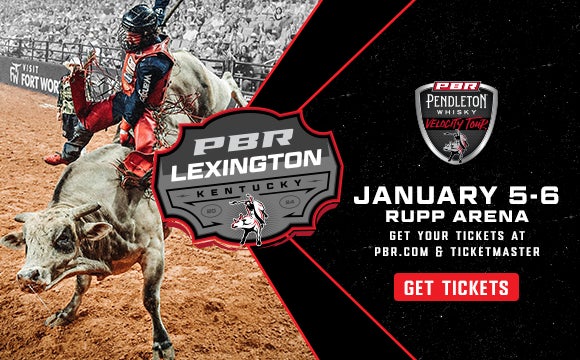 Professional Bull Riders' Pendleton Whisky Velocity Tour at Rupp Arena January 5-6, 2024
Professional Bull Riders' Pendleton Whisky Velocity Tour at Rupp Arena January 5-6, 2024
LEXINGTON, Ky. (September 14, 2023) – For the seventh time in as many years, PBR's (Professional Bull Riders) Pendleton Whisky Velocity Tour will buck into Lexington, Kentucky, returning to the iconic Rupp Arena on January 5-6, 2024, with PBR Lexington.
For two nights only, some of the best bull riders in the world will battle the sport's rankest bovine athletes in the ultimate showdown of man vs. beast in one of the most exciting live sporting events to witness.
PBR's return to Lexington comes on the spurs of one of the organization's most dynamic individual seasons in 2023, as the Velocity Tour broke and reset numerous attendance and competition records en route to its most successful season to date.
The upcoming PBR Lexington will mark the first event of the new individual season for the PBR's expansion series. Eventgoers will watch on as riders vie for crucial points in the race to be crowned the 2024 PBR Velocity Tour Champion.
The bull riding action for PBR Lexington begins with Round 1 at 7:45 p.m. ET on Friday, January 5, followed by Round 2 and the championship round at 6:45 p.m. ET on Saturday, January 6. All 40 competing bull riders will get on one bull each in Round 1. The Top 36 riders from Round 1 will advance to Round 2 Saturday evening. The riders' individual two-round scores will be totaled with the Top 10 advancing to the championship round for one more out and a chance at the event title.
Tickets for the two-day event go on sale Friday, September 15 at 10:00 a.m. EDT, and start at $20, taxes and fees not included. Tickets can be purchased online at ticketmaster.com, RuppArena.com, and PBR.com, or by calling PBR customer service at 1-800-732-1727.
PBR Elite Seats are available for avid fans who want an exclusive VIP experience while enjoying the world's top bull riding circuit. These tickets, available in three tiers, offer premium seats, personal on-site concierge at the PBR fan loyalty booth, and more. For more on elite seats call (800) 732-1727, or to purchase visit Ticketmaster.com.
For more information about the PBR and the 2024 PBR Pendleton Whisky Velocity Tour schedule, or to purchase tickets, visit PBR.com.
Stay tuned to PBR.com for the latest news and results and be sure to follow the sport on all social media platforms at @PBR.