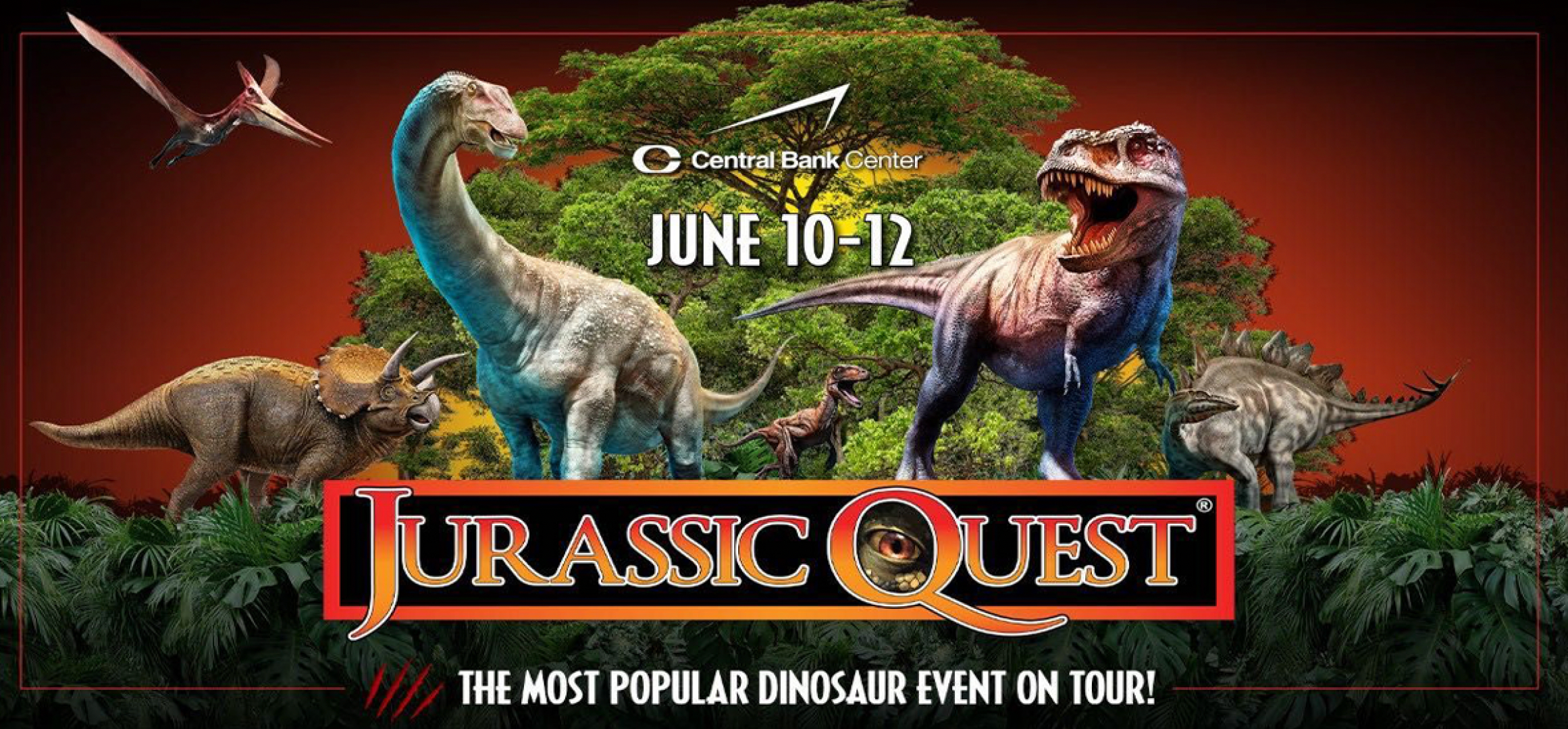 JURASSIC QUEST, NATION'S BIGGEST DINOSAUR EXPERIENCE, MIGRATES TO LEXINGTON – TICKETS ON SALE NOW
JURASSIC QUEST, NATION'S BIGGEST DINOSAUR EXPERIENCE, MIGRATES TO LEXINGTON – TICKETS ON SALE NOW
LEXINGTON, KY (March 17, 2022) – The largest and most realistic dinosaur event in North America is BACK, BIGGER and BETTER than EVER! Families can walk among the nation's biggest herd of photorealistic dinosaurs when Jurassic Quest® opens at Central Bank Center for a limited run June 10-12.
Jurassic Quest is one of the first indoor family edutainment shows to re-launch since March 2020 due to the pandemic and will open indoors with its most beloved and unique experiences for the whole family including life-like dinosaurs, some of the largest rideable dinosaurs in North America, live dinosaur shows, interactive science and art activities including a fossil dig and real fossils like T-Rex teeth, a triceratops horn and life-size dino skull, a "Triceratots" soft play area for our littlest explorers, bounce houses and inflatable attractions, photo opportunities, and more.
New for 2022, families are invited to pick up a map at entry to embark on "The Quest," an interactive scavenger-hunt style adventure with 10 clues leading them to meet dinos and prehistoric sea creatures, capture a Dino Snap, search for fossils, watch a live Raptor Training Experience and more, to earn a prize at the end (included with general admission).
Loved by millions, only Jurassic Quest can bring families memories this BIG! Walk through 165 million years of the Triassic, Jurassic and Cretaceous periods to learn about the creatures that ruled on land, and "deep dive" into the "Ancient Oceans" exhibit to come face to face with the largest apex predator that ever existed – a moving, life-size, 50-foot-long megalodon! Meet the babies, hatched only at Jurassic Quest: Cammie the Camarasaurus, Tyson the T-Rex and Trixie the Triceratops – and, you may even catch one of our star dino trainers: Safari Sarah, Dino Dustin, Captain Caleb, Prehistoric Nick or Park Ranger Marty!
The Jurassic Quest herd of animatronic dinos – from the largest predators to playful baby dinos – are displayed in realistic scenes with some that move and roar, allowing guests to experience them as they were when they roamed the earth billions of years ago. Jurassic Quest works in collaboration with leading paleontologists to ensure each dinosaur is painstakingly replicated in every detail, from coloration to teeth size, to textured skin, fur or feathers, drawing on the latest research about how we understand dinosaurs and ancient giants of the sea looked and moved.
TICKETS & LOGISTICS
Tickets are timed entry and start at $19 -- reserve online to ensure desired date and time atwww.jurassicquest.com -- or are available on-site, and include a 100% ticket guarantee that in the event of a show cancellation or postponement for any reason, ticket purchases will be automatically refunded for the full purchase amount. Tickets are for a timed arrival window, and advance ticket purchase is strongly encouraged. Guests can walk through the dinosaur experience at their own pace, and strollers are permitted. Some venues may have wheelchairs for use, but please contact the venue in advance to make arrangements.
General admission tickets include access to the dinosaur and marine exhibits, arts and crafts activities, and dinosaur shows. There are rides and activities that require activity tickets available on site, or guests can upgrade to the Kids Unlimited Rides ticket (the best value for children ages 2-12). Entry is free for children under age 2. Socks required for inflatable attractions.
---
Event: Jurassic Quest
KIDS UNLIMITED RIDES (INCLUDES ENTRY): $36 for all-you-can-ride access to dinosaur rides, inflatables, fossil dig
General admission includes live shows, arts and crafts activities, dinosaur and marine exhibits. Tickets for individual activities available on-site (from $6). Free entry for children under 2.
Where: Central Bank Center, Exhibit Hall B&C
425 W. High St, Lexington, KY 40507
When (Public Hours):
Friday, June 10, 2022: 9am-8pm
Saturday, June 11, 2022: 9am-8pm
Sunday, June 12, 2022: 9am-6pm
RSVP FOR PRESS PREVIEW / OPENING DAY PRESS VISITS
Fri., June 10: 8-9am before public opening
Live, zoom, in-studio interviews available with dinosaur trainers and baby dinos
---
A SAFE & FANTASTIC JURASSIC QUEST
We care about the safety of our guests and crew. So guests can focus on the fun, we have implemented enhanced cleaning procedures throughout the event. We continuously monitor and implement public health recommendations and local regulations. All guests and crew are subject to any governmental or venue restrictions. Some experiences may not be available in all cities due to capacity, health, or safety regulations. For more information: https://www.jurassicquest.com/covid-message
ABOUT JURASSIC QUEST
Since 2013, Jurassic Quest has been touring epic dinosaur experiences treating millions of people across North America to an as-close-as-you-can-get look at the giants that ruled the Earth and sea millions of years ago. Jurassic Quest is the largest and most realistic dinosaur exhibition in North America. Developed with leading paleontologists, each dinosaur has been painstakingly replicated in every detail including the most realistic likenesses, movement and sound. Whether their prehistoric counterpart had skin that was scaly, feathers or fur, Jurassic Quest has spared no expense in bringing the dinosaurs to life. Jurassic Quest produced 96 multi-day events in 34 states and Canada and sold over one million tickets in 2019, and has hosted over 2.5 million fans at its Jurassic Quest Drive Thru touring throughout the country since June 2020. For more information and tickets visit www.jurassicquest.com.
Safari Sarah, Dino Dustin, Captain Caleb, Prehistoric Nick, Park Ranger Marty, Cammie the Camarasaurus, Tyson the T-Rex and Trixie the Triceratops are registered trademarks of Jurassic Quest Holdings, LLC. All rights reserved.
Connect with Jurassic Quest:
About Central Bank Center
Located in Lexington, Kentucky, the Lexington Center Corporation (LCC) is a not-for-profit 501c3 corporate agency of the Lexington Fayette Urban County Government established in 1974 to manage and maintain Rupp Arena at Central Bank Center, the Central Bank Center (formerly Lexington Convention Center), Triangle Park and the Lexington Opera House. One of the nation's most storied entertainment destinations, Central Bank Center venues collectively welcome an average of 1.3 million patrons annually.

Since 1976, Rupp Arena at Central Bank Center has served as the home court of the University of Kentucky Mens' Basketball team, regularly leading the national attendance average. Rupp Arena has hosted legendary artists such as Justin Timberlake, Paul McCartney, Garth Brooks, Chris Stapleton and many more. Since 2018, Oak View Group and Live Nation Arenas have provided booking services to Rupp Arena. During the last eighteen months, Rupp Arena has broken all previous audience attendance and revenue records in its storied 43-year history.

The Lexington Opera House, built in 1886, listed on the National Register of Historic Places, is one of the premiere performing arts centers in the region. From its opening, the Opera House has played host to such famous stage performers W.C. Fields, The Marx Brothers, Al Jolson, Julie Harris, Steve Martin, Brian Wilson and Graham Nash. It has undergone two major renovations and remains a cultural destination in downtown Lexington.
The Central Bank Center holds over 200 meetings, trade shows and special events annually. It is currently undergoing a transformative $275 million expansion, featuring a dramatic, light-filled architectural design. Upon completion in Spring 2022, the new Central Bank Center will offer over 200,000 SF of flexible meeting and event space.
About OVG360:
OVG360, a division of the Oak View Group, which was founded by Irving Azoff, Tim Leiweke, and supported by Silverlake, specializes in event programming venue assessments, and security and emergency preparedness. OVG360 can also provide full management services for arenas, stadiums, convention centers, and performing arts centers. Oak View Group is the largest developer of sports and entertainment facilities in the world with $4.5 billion of deployed capital across eight projects.