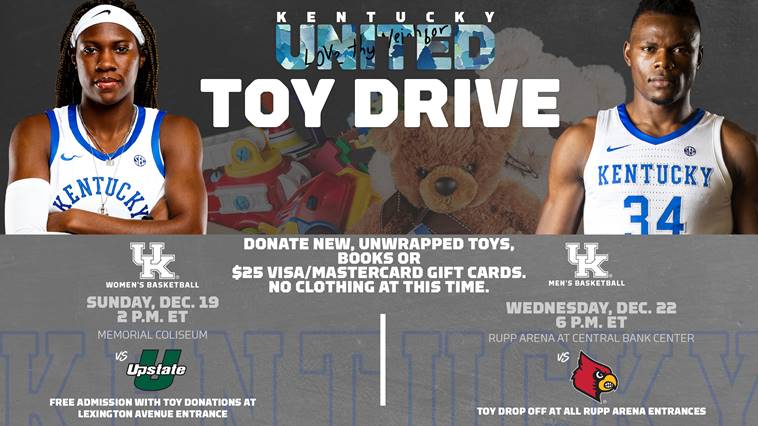 Kentucky MBB, WBB to Help with Western Kentucky Toy Drive
Kentucky MBB, WBB to Help with Western Kentucky Toy Drive
New, unwrapped toys, books or $25 VISA/Mastercard gift cards being collected at home games
LEXINGTON, Ky. – The University of Kentucky men's and women's basketball programs will be collecting toys and gift cards at its upcoming home games to donate to the Western Kentucky Toy Drive initiated by Kentucky First Lady Britainy Beshear.
New, unwrapped toys in original packaging or $25 VISA or Mastercard gift cards will be collected and donated to families in Western Kentucky in need following the tragic tornadoes last week. The UK Police Department is working with UK Athletics on collection and distribution of the donated items.
The Kentucky women's basketball program will accept donations at Sunday's 2 p.m. ET game vs. USC Upstate and offer free admission to those who donate one of the requested items. Donations will be accepted at the Lexington Avenue entrance.
The Kentucky men's basketball program will accept donations at all entrances of Rupp Arena during its game Wednesday, Dec. 22 against UofL at 6 p.m. Free admission with a donation cannot be offered at the men's basketball game due to limited availability.
The toy donation is in conjunction with the "Kentucky United for Tornado Relief" telethon that UK Athletics, WLEX-TV and JMI Sports hosted earlier this week, raising more than $3 million. All proceeds are going directly to the American Red Cross to benefit Western Kentucky victims.
Donations to Kentucky United can continue to be made in these ways:
redcross.org/donate/cm/wlextv-pub.html/ (site will be active through Dec. 19)
Mail a check to: American Red Cross, Attn: Kentucky Tornadoes, 1450 Newtown Pike, Lexington, KY 40511
Use this QR code:
For more information on the Kentucky women's basketball team, visit UKathletics.com or follow @KentuckyWBB on Twitter,Instagram, Facebook and TikTok.
For the latest on the Kentucky men's basketball team, follow @KentuckyMBB on Twitter, Facebook, Instagram and TikTok, and on the web at UKathletics.com.
‑ GO CATS -
For more information contact:
Eric Lindsey (eric.lindsey@uky.edu) or Deb Moore (deb.moore@uky.edu) - (859) 257-3838
Evan Crane; wesley.crane@uky.edu; (859) 257-8431 or Sommer Thomas; sommer.thomas@uky.edu; (859) 257-8431