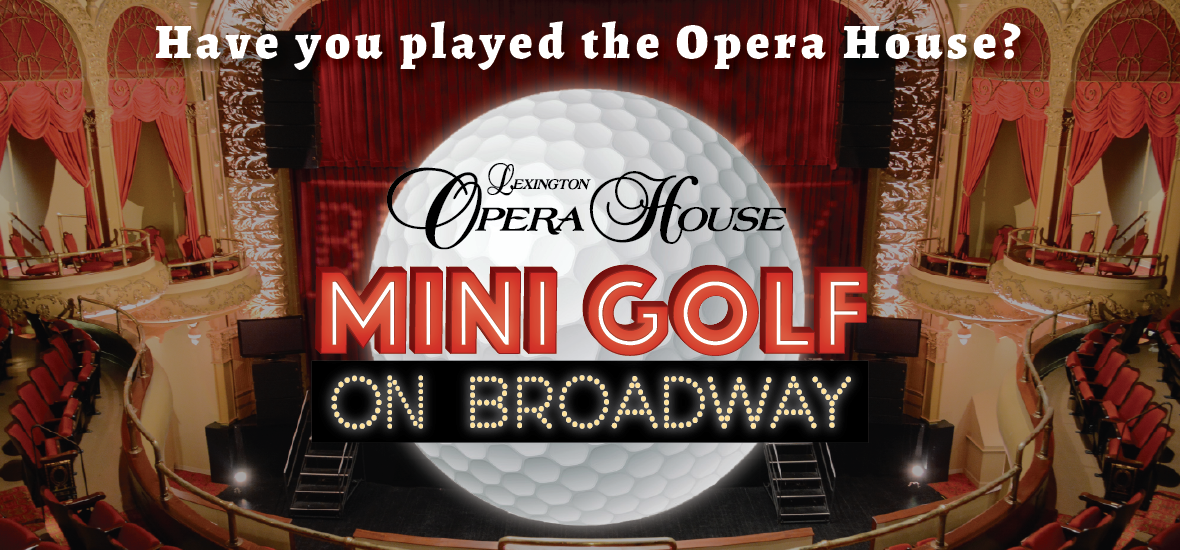 Lexington Opera House
Apr
3 - 11
, 2021
Mini Golf On Broadway
Only 2 more days to play • Reserve your tee time today!
Now open weekends!
For groups of 10 or more, please contact Luanne Franklin for availability and pricing.
Since the beginning in 1886, countless notable performers have graced the stage at the historic Lexington Opera House. From George M. Cohan to Harry Houdini, from Anna Pavlova to Sarah Bernhardt and more recently from Steve Martin to Cathy Rigby and Johnathan Groff, we proudly boast their acclaimed performances on our stage!
Now, it's your turn to play the Opera House.
While we wait for that time when we can return for a staged performance, we invite you to take a sneak peek behind the curtain, and enjoy a mini-golf course inspired by Broadway! Schedule a Tee Time in advance and check in at the Short Street entrance. Pick up your club, ball and scorecard and be escorted backstage. You'll tee off on a nine-holes of socially distanced, Broadway themed mini golf, including such titles as THE MUSIC MAN, CINDERELLA, KINKY BOOTS and HAMILTON! Along the way, our backstage pros will share information and stories from behind the scenes at Lexington Opera House.
Need a Mulligan?
There are no do-overs at Mini Golf on Broadway, but you can save a stroke if you can answer a Broadway Trivia question correctly for each hole!
Hole in One!
Play the course as many times as you'd like during your 90-minute time slot And if you score a HOLE-IN-ONE on the final hole, you'll see your name in LIGHTS the following week - on our new Opera House Marquee on Broadway!
Have a Ball!
For only $2, take home your inscribed golf ball as a special souvenir, showing your support for the theatre. Available while supplies last.
We miss you at the Opera House!
We're excited to welcome you back with a brand new stage experience! We are proud to safely open our doors and give our community the opportunity to enjoy our beautiful historic venue once again. Special thanks to the Opera House Fund for supporting this initiative. And THANK YOU for supporting Lexington's historic theatre. We look forward to seeing you for TEE-TIME at the Opera House!
---
By visiting the Lexington Opera House, each visitor voluntarily assumes all risks related to exposure to COVID-19 and agrees to release the Lexington Opera House from any liability related to such exposure regardless of any action or inaction by the Lexington Opera House or another visitor, guest, or employee of the Lexington Opera House. Thank you for supporting the Lexington Opera House and for helping to keep each other healthy and safe.
This activity involves certain risks, hazards, and conditions that may be dangerous to life, limb, and property and that can arise in an incalculable variety of unforeseen or foreseeable ways which may include: bodily injury, loss of limb, death or property damage. By purchasing tickets and voluntarily participating in this event, you agree to assume the risks involved and hereby collectively and individually release and agree to hold harmless the Lexington Opera House, Lexington Center Corporation, their Boards of Directors, officers, employees, agents, representatives, volunteers, and assigns ("Releases") from all rights, claims, demands, and damages of any kind, known or unknown, existing or arising in the future resulting from or related to participation in the activity.
Details

Dates

Apr

3 - 11

, 2021

Location

Lexington Opera House

Availability

Buy Tickets Now
Course Rules

Maximum of Four (4) people per party, with (4) people per putting green.
Limited to 36 players per 90-minute time slot.
No playing through if behind a slower group.
If your ball goes out of bounds, a one-stroke penalty applies.
Mulligan – no do-overs, but save a stroke if you answer the Broadway trivia question correctly.
All players must start from the mat when teeing off.
Please hit the ball easy.
Please treat our historic building with respect.
Young people under 16 years of age must be accompanied by an adult. Opera House Mini-Golf is recommended for age 5 and older.
Age 4 and under play for free, but must be included in the maximum of 4 players per party.
No strollers allowed on the course/stage.
Other than bottled water, no outside food or drink permitted.
If you want to play the course again during your 90 minutes – please check with a backstage pro to assist.
Return your club and ball as you exit the doors on Broadway

COVID-19 Protocols

The safety of our patrons, performers, staff, and volunteers is our top priority. Under the guidance of Team Kentucky, Healthy at Work we have put important procedures and practices in place at our venues that will be enforced at this event. Please review these carefully at LexingtonOperaHouse.com/COVID19 before purchasing your tickets and arriving at the venue. Thank you for supporting the Lexington Opera House and for helping to keep each other healthy and safe.

Code of Conduct

We require face coverings to be worn at all times while in the theatre. Guests who do not comply will be asked to leave.
Please maintain a physical distance of 6 feet from those not in your own party while on the course and in common areas.
No loitering
No vandalism
No unruly or illegal conduct
No outside alcohol or illegal drugs
No weapons (guests are subject to search)
Guests who appear to be intoxicated or under the influence of illegal substances may be refused entry or asked to leave the premises.
For your safety, these rules apply to all guests and are enforced regardless of race, creed, color, sex or religion.

Tee Times

Fridays – 4:00pm – 7:00pm

Saturdays – 11:30am – 5:30pm

Sundays – 11:30am – 4:00pm

New dates and times go on sale each Thursday at 10AM! Reservations will open two weeks before each tee time. Tee Times have limited availability, while supplies last.

For help or questions please email the Lexington Opera House Ticket Office at [email protected].

Rent The Course

Interested in renting the course for a socially distanced holiday party, birthday party, or other private event? Contact us to learn more [email protected]. Private rental reservations can be made for up to 36 guests and must be made at least two weeks before your preferred date.