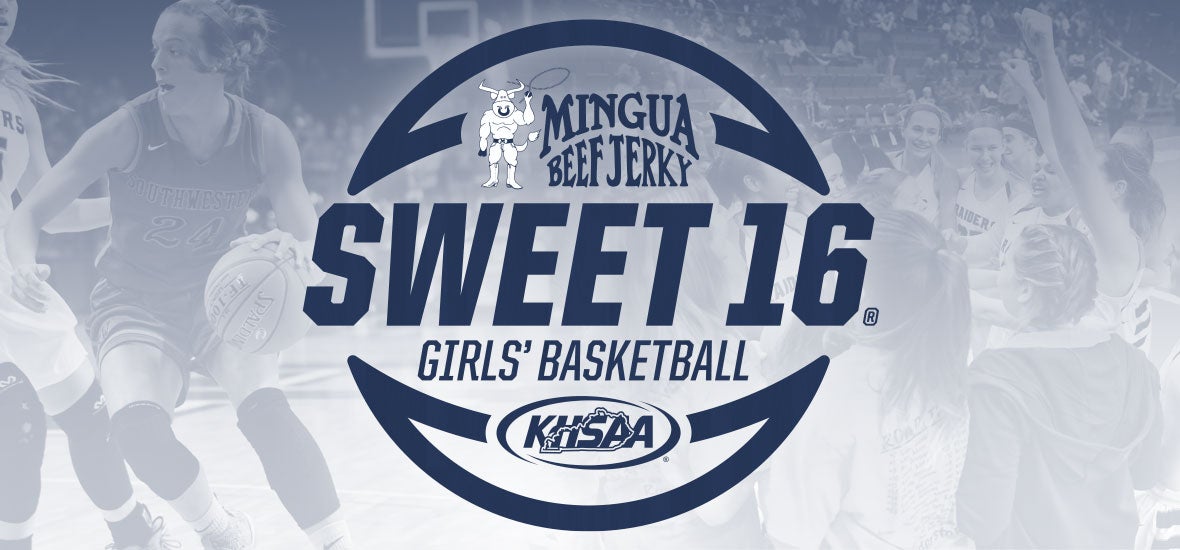 Rupp Arena
Mar
11 - 15
, 2020
Girls' Sweet Sixteen® Basketball Tournament (SUSPENDED INDEFINITELY)
Mingua Beef Jerky/KHSAA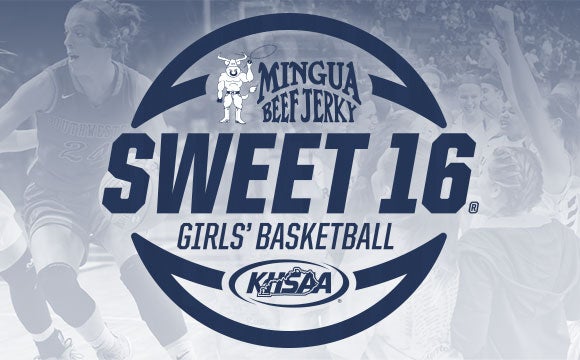 KHSAA Boys and Girls Basketball Tournaments have been suspended. Tickets will be refunded at point of purchase. Internet and phone order refunds will be made automatically for single sessions 4-8 girls and all sessions for boys.



KHSAA Girls' Sweet Sixteen® Basketball Tournament takes place over 5 days at Rupp Arena. The unique nature of the tournament and NBA-style pre-game and post-game celebrations at the finals draw fans throughout the state. Come cheer on your high school!
Details

Dates

Mar

11 - 15

, 2020

Location

Rupp Arena

Ticket Prices

*Prices subject to change
Ages

All ages. Infants under 2 are admitted free but must sit in a parent's lap.

Refund Request Form

Prohibited Items

Any streaming of game action including any type of social media (Facebook Live, Twitter Periscope, etc.)
Confetti, torn or shredded newspapers, glitter, powder or other similar items
Large banners or signs
Signs on sticks
Large floor level objects including oversized mascots that obstruct or could obstruct the view of any fan, participant or media representative (other than during halftime cheer competition)
Any other item obstructing the view of patrons
Artificial noisemakers
Any electronic or battery powered amplification equipment
Air horns, electronic horns or any type of recorded music
Cowbells
Animals of any type other than documented service animals
Selfie sticks
Body paint (must be on and dry prior to entry)
Tobacco-related products
Beach Balls
T-shirts/Shakers (must be distributed prior to entering the arena)
Flash photography
Tripods
Laser pointers or any other form of light shone toward a participant at any time including players, coaches, officials and field level administrators
Bags larger than 12" x 12" x 6"
Other items as determined by management

Approved Items

Video cameras that are handheld within confines of patron's seat
Audio Recording of play or game
iPads/tablets

"All Sessions" Tickets

KHSAA presents the 58th Annual Sweet 16 Girls High
School State Tournament.

Buy all 8 sessions/books for the best seats at the best price.
Sessions are as follows...
#1 Wednesday, March 11, 2020 @ 12pm
#2 Wednesday, March 11, 2020 @ 6:30pm
#3 Thursday, March 12, 2020 @ 12pm
#4 Thursday, March 12, 2020 @ 6:30pm
#5 Friday, March 13, 2020 @ 12pm
#6 Friday, March 13, 2020 @ 6:30pm
#7 Saturday, March 14, 2020 @ 6:30pm (SemiFinals)
#8 Sunday, March 15, 2020 @ 2pm (Championship Game)
Sessions #1 - #7 include 2 tournament games

Security Information - Bag Restrictions

In the interest of increased security for all of our patrons, we have enhanced our screening process for the Whitaker Bank KHSAA Boys' Sweet Sixteen Tournament. All patrons will have their bags checked. In addition, there is a revised bag size restriction. Bags may be no larger than 12" x 12" x 6". There will be express lanes for patrons not carrying bags for quicker entry. All patrons will be subject to an intensive visible inspection and/or the use of handheld metal detector wands.

Please arrive early to allow additional time for these enhanced security screenings.

Cheering Section Ticket Info

Section #1-4: Participating schools sell tickets (Cheering Sections) to their fans at $13 each.

Section #5-8: Cheering Sections will be sold to the winner's fans immediately after each game at Pep Sales for $13 each. After Pep Sales close, the tickets will increase to $15 each.